Looking for Exercise physiologist near me To develop you a safe & effective exercise physiology program?
Rosanna physiotherapy provides accredited Exercise physiology that can help you get back to your best and Injury Free
At Rosanna Physio, we know that exercise physiology is a powerful method of treatment that makes use of many forms of physical activity and exercise to treat a wide variety of physical ailments, as well as to generally improve a person's level of physical health and vitality.
When you need to enhance your strength, fitness, and mobility but may have a health concern that is preventing you from doing so, consulting an experienced Exercise Physiologist is very important. You can safely achieve your strength and mobility goals and needs with the assistance of an exercise physiology expert, who can also assist you in managing other health concerns or aliments, such as:
Muscle imbalances

Arthritis

Obesity

Depression

Anxiety

High blood pressure

and much more
It is of the utmost importance to work with an exercise physiology professional who is familiar with your current state of your body and physical health, injuries and capabilities, any medications you may be taking, and the ways in which your care and exercise programme can be integrated with the services provided by any of your other medical professionals that are involved in your health prescription.  
If you are looking to improve your strength, mobility and overall function in a safe and effective manner, search no more.  We have an accreditied Exercise Physiologist with over 10 years experience that can help you reach your health & fitness goals.  Book in an initial asssessment today and take the first steps back towards living your best life again.
INCREASING YOUR STRENGTH AND MOBILITY & RESOLVING INJURIES WILL HELP IMPROVE ANY HEALTH CONDITIONS YOU MAY HAVE.
whether it be improving life at home or being active outdoors, an exercise physiologist can help you get back there safely and in less time.
It has been demonstrated scientifically time and again that engaging in exercise is one of the most effective techniques for repairing and enhancing both mental and physical condition over the course over a long period of time.  Exercise improves our mood, our quality of sleep, our energy levels… a safe and effective exercise program provides nothing but benefit for the human condition.
An Exercise physiologist can effectively treat a wide variety of chronic pain and or disease-related health issues, as well as safely get you back on your feet through musculoskeletal rehabilitation… or even just lift your every day health and fitness & training levels.
An accredited exercise physiology session that is both safe and effective has been shown to improve a person's mood, regulate their blood sugar, improve their circulation, strengthen their heart, lungs, bones, and joints, help reduce the likelihood of falling, improve the quality of their sleep, and not only increase their lifespan but also improve their quality of life.
When you exercise (in a safe manner) following the training of an exercise physiology program on a regular basis, so many wonderful and life-affirming things happen to both your physical and mental health.  Our exercise physiologists can help you dramatically improve your quality of life, as quick as safely possible.
if you search for an exercise physiologists near me it's important to seek their Advice in developing a SAFE & EFFECTIVE EXERCISE physiology program, that's where we come in!
Our accredited exercise physiologist will take the time to thoroughly understand your medical history, safely max testing your ability with a detailed assessment of your body & current strength, mobility, and fitness & training levels, any injuries you may have, discuss your targeted health outcomes, and speak to your physiotherapist or primary care physician if necessary.
They will conduct a thorough assessment and then develop a tailored exercise prescription that is specifically designed for your desired level of athletic development and/or injuries, and then they will work closely with you to attain the health goals that you have established for yourself and definitively avoid any further injury as you make progress.
In order for our clients to be able to live life on their own terms, our objective at Rosanna physiotherapy clinic is to provide them the exercise physiology tools they need to take charge of the situation they are currently in and work with them to attain their fitness goals.
Because we are aware that taking the measures necessary to address potential health problems for the long term can be intimidating, we will make sure that you have access to the necessary support at every stage of the process.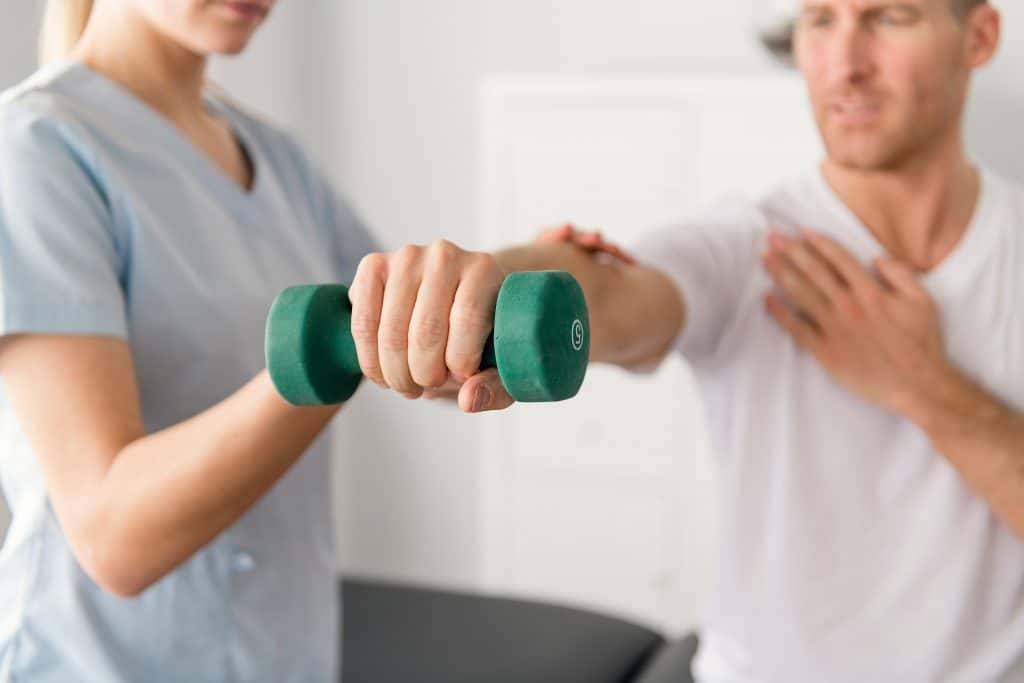 frequently asked questions
What to expect on first consult?
A complete evaluation, the creation of a exercise physiologists plan, and the application of chosen treatment methods according to your needs and those of your body will all be included in your initial consultation.
Our team is located in Rosanna, North East Melborne metro area.
There is no need for a referral to see one of our team members unless you have had an injury at work and are filing a Workcover claim, if you are a patient of Veteran's Affairs, or if you are a Medicare beneficiary using the EPC programme. To get the greatest outcome possible, we collaborate closely with your doctor.
What should I bring to my appointment?​​
Please bring any referrals / paperwork (relevant for return to work, chronic disease management plans, DVA claims) and / or X-rays.  
Do you accept Work Cover / DVA / TAC claims?​​
Yes. we accept Work Cover, DVA and TAC claims.  Note: please call to arrange your Work Cover / DVA / TAC appointment.  We do ask that you bring all the appropriate paperwork on your initial consultation with one of our team members to ensure there is no delay in treatment.  Please discuss any questions you may have about claims with our exercise physiologists in your first appointment.
What is your cancellation policy?​​
We need at least 24 hours notice to cancel our services, so that your appointment slot can be given to someone on the waiting list if you cannot attend.  If you cancel your services with less than 24 hours notice, you may be charged a late cancellation fee.
How long are the appointments​​
Initial & subsequent appointments / services are typically 30 minutes.  Longer exercise physiologists appointments / services are available if arranged near to your consultation.
How many consultations do I need?​​
At Rosanna Physio, your local & experienced execise physiologist nearby me, we strive to get you back to full health and activity in as little treatments / services as possible, and as such, the number of consults / services required will be based on the advice of your expert Exercise Physiologist team member.
Will I be given exercises to do?​​
You will be given a series of exercises (movements) by our team in order to speed up your recovery and prevent recurrence of your issue.  All exercises are trialled within your consultation to ensure they are appropriate for you at that time.  This may consist of strengthening and / or stretching exercise appropriate for your pain or health issue.  As some health issues or pains are ongoing or have been present for months or even years, home exercise allow for improvement to continue further between exercise physiology appointments.  The more recovery we can produce at home with safe & effective exercise, the less you will need to see us in the clinic.
AT ROSANNA PHYSIO, WE ARE YOUR LOCAL EXERCISE PHYSIOLOGIST.  IF YOU WANT TO SAFELY REACH YOUR HEALTH GOALS, TAKE THE FIRST STEPS ON YOUR JOURNEY TODAY AND BOOK ONLINE WITH OUR EP OR CALL OUR RECEPTION ON (03) 9457 2336.  OUR EP IS ACCREDITED AND HIGHLY EXPERIENCED IN HELPING PEOPLE WITH A WIDE RANGE OF CONDITIONS AND FITNESS GOALS.  WE ARE OPEN 6 DAYS A WEEK.